Philadelphia Any Time Locksmith Commercial Lockouts Philadelphia, PA
Nobody likes loss of productivity, especially businessmen who make every minute count. Unfortunately, situations like a lock failure and a resulting lockout just cannot be avoided. A commercial lockout not only creates an embarrassing positon for the employers but also puts a stop to the day's operation and cause heavy losses. Are you worried about such a situation? Keep Philadelphia Any Time Locksmith's contact handy to avoid these consequences.
Resolutions to sudden lockouts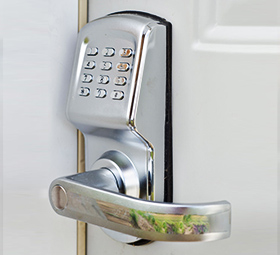 There are many causes for a commercial lockout , for instance, lost/forgotten keys or lock failure. Any given day, more than one employee gets locked out of his or her workplace and requires the services of a professional locksmith to regain access. Philadelphia Any Time Locksmith is a full-service locksmith firm operating in Philadelphia, PA and offers a team of highly talented locksmiths who specialize in resolving lockouts. Our experts can get the job done in a matter of minutes while ensuring zero damage on your commercial property. Here's why you should always choose us:
From one professional to another
Property owners never take risks by hiring cheaper agencies for professional tasks. An amateur locksmith is ill-equipped to deal with an intensive lockout situation and may just make matters worse by using unconventional methods on your sophisticated security systems. We have a team of professionally trained locksmiths who have years of experience and the necessary expertise to resolve a commercial lockout situation with zero damage to your assets.
Lock repair, keys made, and a range of other services
Our locksmiths can repair a wide range of locks, from basic to advanced. If your locks are beyond damage, we will replace them with sturdier ones at a nominal price. We also offer onsite key making service to replace a damaged key or compensate for a lost key. Our technicians come fully prepared with advanced key cutting tools to deliver precision-engineered keys with minimum time loss.
We're always prepared for emergencies
A commercial lockout can have serious ramifications, especially if it takes place during an odd hour when most locksmiths are not available. We are one of the rare locksmith firms that offer round-the-clock services to clients in and around Philadelphia. Our standby team is always ready to be dispatched and will reach your location within just 15-20 minutes of receiving your distress call.
Commercial lockouts can happen due to lost keys, lock failure, or any other issue and may put you in a world of trouble. Avoid that by availing the services of the fastest and most effective locksmith firm in the region. Call us now on 215-948-9182 !